Embroidery, Screen Printing, Pad Printing & Heat Transfers
CUSTOM SCREEN PRINTING
This services is available for vests, hard hats, neck cords, jackets, shirts, neck shades, cooling towels and first aid kits.
Logos can be up to:
1 color on neck cords
2 colors on glasses
3 colors on cooling towels
4 colors on vests, jackets, shirts, hard hats and first aid kits.
If logo requires a color that is not one of the stock inks listed, a Pantone color number should be provided (if no PMS number given, the closest color will be determined) and a color match fee will be required. A Layer of white will be added under the custom color for screen printed logos to ensure a good match. Exact Heat transfer can take up to 10 days for turn around.
EMBROIDERY
Embroidered logos are sleek, professional, durable and present one of the most popular branding methods to stand out from the crowd. Guardian can provide personalized, customized, and digitized embroidery service. With access to hundreds of colorful threads, Guardian can stitch your logo or design on to select high-visibility apparel, including jackets, polos, and T-shirts made from solid fabrics. Although embroidery does not allow for absolute PMS color matching, we can get very close to your Pantone color via our extensive selection.
EMBROIDERY PRODUCTION EFFICIENCY & VERSATILITY
Our state of the art embroidery machines stitch up to 1,200 stitches a minute, and with 15 needles, we can get your job done quickly and incorporate up to 15 colors in any one design. Lead Time: 7 days after receipt of approved artwork and order for in-stock and product.
PAD PRINTING
Our Pad printing capabilities allow us to transfer your 2-D image on to a 3-D ojbect, such as a hard hat or safety glasses. We have multiple machines, allowing us to print one color or up to four colors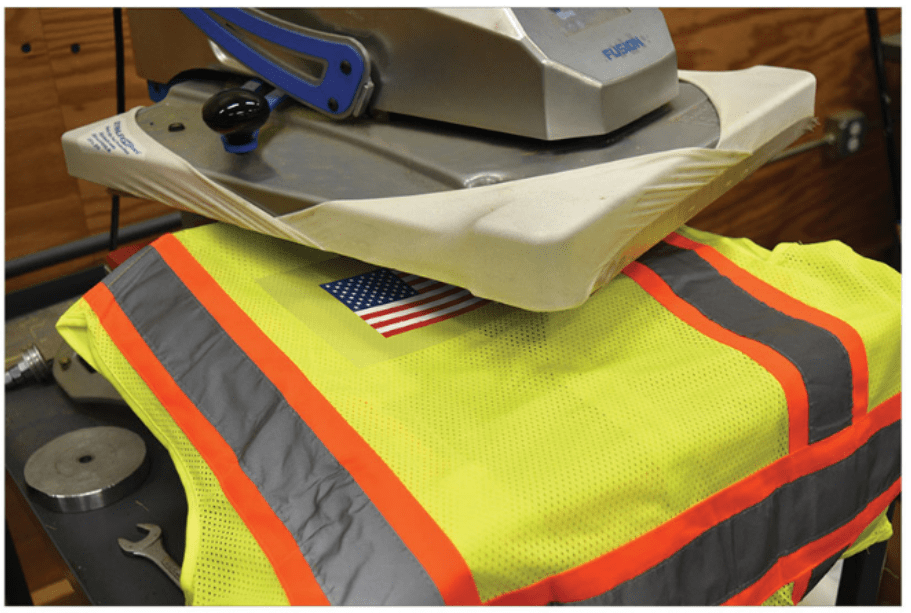 HEAT TRANSFER
Heat transfer allow for an extremely detailed and brilliant image of your logo in full color. Your logo is permanent, resists fading and is not compromised by normal washing and cleaning. Heat transfers are more comfortable than vinyl transfers.